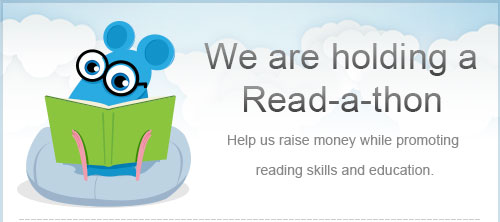 We will be starting on:


2021-02-16
To Participate go to: https://bit.ly/3jJocFm
---
About our Read-a-thon…
We want our kids to understand the joy of reading. So, for the next couple weeks, your child will complete as many reading sessions as possible.
We need to raise money and think this is a great way to do that
This is one of the most profitable, child-friendly fundraisers available
Friends and family members can play such important roles in the life of a student. Kids who are supported and encouraged typically perform much better.
That's one of the reasons we wanted you to know about our Read-a-thon. We would love for you to let your child know how proud you are and reinforce the fact that reading is important.
We invite you to make a donation that will directly benefit your child. During the donation process you can leave an encouraging comment for your child. Those comments mean so much to young readers.
So thank you for taking the time to consider helping Cherokee Elementary APT.
Cherokee Elementary prides itself in having an involved community. Your contributions help us enhance the academic, social and physical education of every Cherokee student.
The Cherokee APT is thrilled to be able to count on your support to ensure we continue to have the funding necessary to have teachers' aides in each in classrooms, reading and math specialists as well as provide for technology upgrades on campus.
---
2021-03-05T17:00:00
days
hours minutes seconds
until